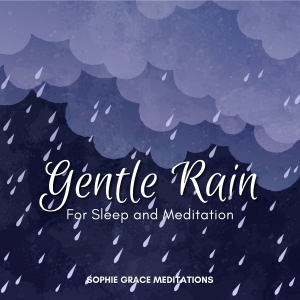 Available Now!
My nature sound recording Gentle Rain for Sleep and Meditation is now available on Spotify, Apple Music, iTunes, Deezer, etc. (Patreon subscribers have had early access since the March 1st.)
Gentle Rain for Sleep and Meditation is a two-hour recording of light rain falling softly on a patio deck floor. Unlike many recordings of rain sounds that are called "gentle rain" but are actually recordings of very loud and intense pouring rain—which can be quite overwhelming—this rain recording is truly gentle—a soft trickle and tapping sound of drops falling on wood.
There is still much further research to be done, but some small studies suggest that pink noise reduces the activity in the brain, which helps us relax and fall asleep. Rain is sometimes called nature's own pink noise, which makes it excellent to listen to if you want to fall asleep or even just for relaxing or meditating. 
I always have a hard time falling asleep and this recording never fails to knock me out completely.
I hope you will enjoy it!